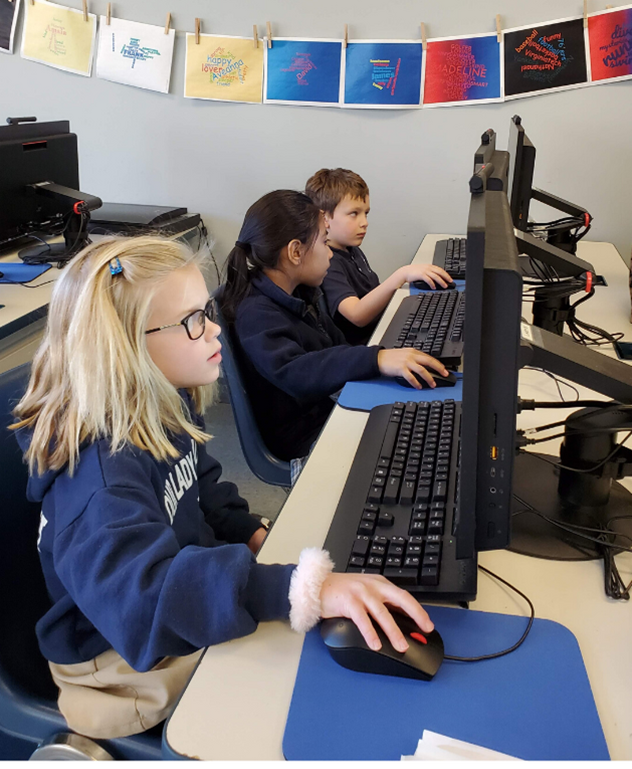 Our Lady of Grace Catholic School strives to foster spiritual, physical, intellectual, and social growth in all students. Recognizing the importance of technology in our world, we believe it necessary to:
Incorporate technology into our instructional process to encourage problem solving, critical thinking, and global learning
Promote student-centered learning
Use technology to increase the effective use of time for both students and faculty
Provide appropriate technology resources for students, faculty, and staff, so that they are able to communicate with all stakeholders and maximize learning opportunities
Empower students and staff with technical literacy skills
Ethical and responsible usage will underscore all elements of technology use at Our Lady of Grace. All students, parents, faculty, and staff are required to read and acknowledge the Our Lady of Grace Technology Resources Acceptable Use Agreement at the beginning of each new school year.
TECHNOLOGY RESOURCES
Our Lady of Grace Catholic School believes that technology is integral to student learning. Faculty members receive training to incorporate technology in their classes in order to enhance curriculum. Students must be able to use a variety of technology today in order to be prepared for the technology of tomorrow. In light of this, Our Lady of Grace continues to invest in its technology program, which includes:
School issued email accounts through Google Apps for Education, which include Google Drive for collaboration, free word processing, spreadsheet, and presentation apps, and cloud storage

PC lab available for use with classes and students

Mobile ipad Mini carts(3 total, for a total of 72 ipad minis to be used school-wide)

Mobile Chromebook cart with 29 Chromebooks

Faculty laptops

Document cameras available for use in classrooms

Interactive Smartboard or a Brightlink projector board in every classroom

Faculty and grade level server accounts

Campus-wide wired and wireless network capabilities

World Book Online for student research

School Speak(online grades, schedules, attendance information, activities, and report cards)

AIMSweb, Aleks, and Read Live programs for student assessment

E-book library for faculty professional development
Technology Committee
The Our Lady of Grace School Technology Committee promotes the use of technology to increase school efficiency, to support teaching, and to enhance student learning.
The committee's responsibilities include:
Maintaining a technology plan that aligns with current and future school needs
Assessing the technological needs and competencies of faculty, staff, and students
Providing staff and faculty technology training
Making recommendations concerning purchases, implementation, maintenance, and upgrading of technologies within a strong school infrastructure